Be The Light in the World with La Vie Est Belle Soleil Cristal
Try La Vie est Belle Soleil Cristal eau de parfum by Lancôme. This unique fragrance with floral and mandarin scent will complete and illumate your spring style.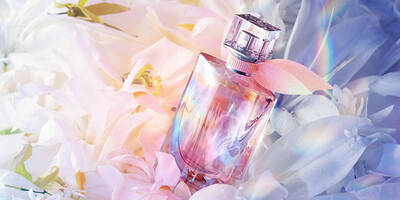 Be The Light in the World with La Vie Est Belle Soleil Cristal
Every day, since it's founding, Lancôme has set out to see the light in the world. We dream to spread joy as happiness activists through beauty and positivity, to spreed light with eyes wide open, bright smiles, radiant skin, and the magic that comes with putting our best faces forward every day to share with the world. Nothing embodies this spirit of Lancôme more than the scent of La Vie Est Belle eau de parfum. This spring, as winter fades away and fresh sun filled days return, let us invite you to see the infinite shades of happiness with the debut of La Vie Est Belle Soleil Cristal eau de parfum, a new scent filled with so much happiness it radiates with it from very angle.
Soleil Cristal
From its warm golden heart to the tip of its iridescent peach coloured wings, light radiates from the holographic perfume bottle of Soleil Cristal like a halo of happiness. Like a crystal diffracting the light that passes through it, its radiant an infinite aura of light brighten every day life before evening opening the bottle.
Inside, the solar iris scent sparkles with top notes of mandarin and a warm heart of Ylang yang and white flowers. Then, a wake of radiant vanilla, ethically and sustainably sourced in Madagascar arises, to further lift the spirit with this light, floral and uplifting scent reminiscent of spring first sunshine.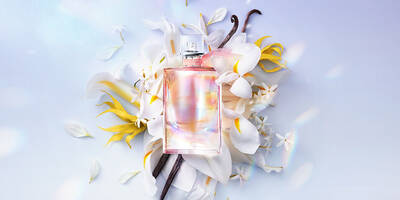 The green extraction process of Soleil Cristal's natural fragrance ingredients remains faithful to the integrity of their scent, while it's recyclable and eco design perfume bottle and packaging are committed to production using fewer resources and creating less waste — all for an even brighter tomorrow.
The Happiness Manifesto
In turbulent times such as today it can sometimes be difficult to look on the bright side. However at Lancôme we believe that it is exactly during these trying moments that spreading light and positivity is more crucial than ever. Let's choose to look on the bright side, proclaim that life is beautiful despite the difficulties and use our energy to turn the ordinary into extraordinary moments every day. Live happy, be positive, and adopt a new energy of positivity starting with your scent!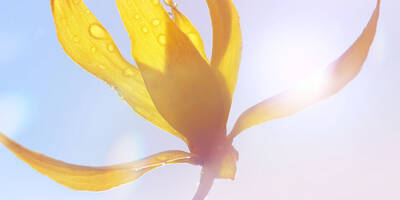 Happiness is a more than a feeling, it's an energy. It's an aura of light that emanates from you and radiates all around, like a solar glow growing up from within to warm up the sounds of those that surround you. Let La Vie Est Belle Soleil Cristal eau de parfum illuminate this sensation in you every day and beam its light to share with the world! See the light, feel the light, be the light! Show the world the full spectrum of happiness with La Vie Est Belle Soleil Cristal…