Together, We are All Idôles — IDÔLE AURA, the New Sun-Kissed Floral Scent
Discover Lancôme's Idôle Aura, a brand-new eau de parfum that blends together rose, jasmine and milky vanilla with salty crystals and soft musk.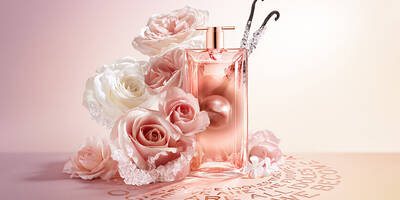 Do you see that light on the horizon? Soon you'll feel the warmth of its glow. It's not just the arrival of summer. It's Lancôme's Idôle Aura, a new luminous floral eau de parfum that brings an unstoppable energy, giving us the power to conquer and dazzle with our collective success. It is the radiant trail of a woman who reveals something bigger than herself alone…
Idôle Aura unites us all under one light with an invitation to rise together. It is a scent of success, for every woman and all women. In its aura is a community where we're uplifted to be our own idôle and inspire others. This togetherness makes us unstoppable, as the floral scent of Idôle Aura reminds us of our individual strengths and the power in uniting them in support for one another.
This new sun-kissed version of Idôle Eau de parfum is a sweet and salty addition to this favorite floral fragrance. A trio of roses form its top notes: Damascena Rose from Isparta, Centifoglia Rose from Grasse, and Lancôme's Rose Absolue. Naturally grown and drenched by the warm sun rays, these essences bring Idôle Aura a bursting solar energy. A white floral bouquet with jasmine enlightens the heart of Idôle Aura, and at the bottom a powdery, milky vanilla extract with salty crystals melts into a soft layer of musks, prolonging the feeling of warmth under an endless ray of sunshine.
But go beyond its olfactory experience and discover the uplifting origins of this new scent. This new eco-responsible and eco-friendly perfume leads the way by opting for sustainably sourced ingredients, like Isparta Rose petal and Madagascar Bourbon Vanilla, that ensure decent working conditions and fair prices for farmers, all while preserving the ecosystem. In a remarkable and strong commitment to the future, Idôle and Lancôme stand for female empowerment. Together we bloom and we engage with all the women of Isparta, who passionately care for the Isparta rose as a symbol of their togetherness. This Idôle Together We Bloom initiative contributes to a zero-waste harvest and supports the local economy by valuing their unique savoir-faire. The result is rendered possible by the dedication of three female perfumers coming together from three different continents to create the Idôle Aura fragrance.
Be among the first to try this floral eau de parfum, a new tome for Idôle and a luminous addiction joining Lancôme's family of fragrances. Idôle Aura radiates outward, gathering fragrances like fresh and sensual Ô de Lancôme and the warm and sparkling La Vie Est Belle Soleil Cristal around its halo, the spirit of their scents in perfect harmony. Together they lead the way to uplift us in the pursuit of self fulfilment and happiness. Let us join in their radiance and unite women in a circle where we are all equals: idols in the making, on the way to collective achievement. It is a circle of sisterhood, sharing and trust, where each of them can echo a message from the heart: "I can. Together we will".